Background: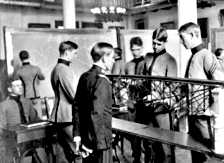 Founded in 1802, the United States Military Academy at West Point was the first school in the U.S. to offer a formal program of instruction in engineering. During the first half of the 19th century, civil engineering was the foundation of the West Point curriculum. Academy graduates of that era designed and built many of the young nation's railroads, bridges, harbors, and roads. This contest commemorates West Point's engineering heritage and its role in developing the nation's infrastructure.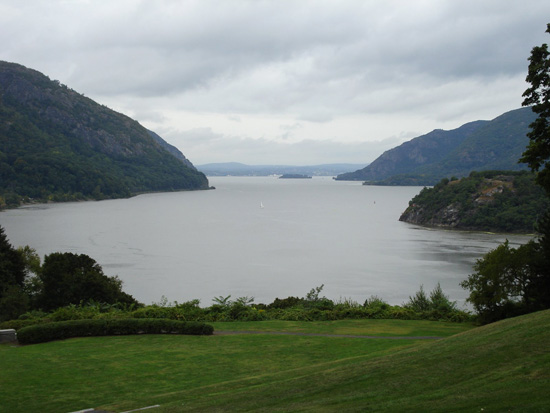 Hudson River at West Point
Intro:
Demonstrate straw&pin beam- first without diagonals,then with straw and string diagonals- note lengthening and shortening of diagonals as beam is flexed.
A truss keeps all members purely in tension and compression.

Lesson 1:
Convene in Digital Photo Lab- Open West Point Bridge Designer
Load Sample Design- Warren Deck Truss 20Meter Span
Note Initial Cost: $261,000
Edit name
"Save As" to student folder
Review basic Tools
Load Test
Revision cycle- In Drawing board mode- select members, reduce size until failure, then increase- maximum cost= $185,000
Note colors/ ratios--ratios should be >0.6 and <0.95
Print Out Screen Shot--command+shift +3 or 4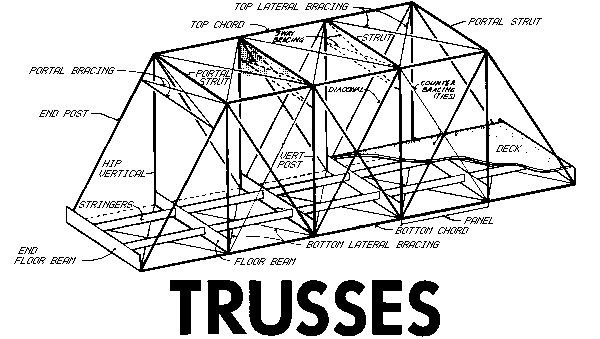 Extra Time- optimize Pratt Deck Truss 44 Meters
---
LESSON 2: Who will be PONTIFEX MAXIMUS?
Optimizing Member size Using Ratios:
Review optimizing using load test results:
Force/strength ratios should be between 0.8 and .99- if greater than 1.0, become bright red or blue(failed!)
Comparison:

A weight lifter can lift 100 lbs.
If he is lifting 90 lbs, how much of his capacity is he lifting? (0.9)?
If he is lifting 100 lbs, he is straining to hold it.(1.0)
If he tries to hold up 110 lbs, he is at 110% of his capacity, and he drops it
Click at top of column to sort by values
To select a range of values, click on one end of the range, press shift, then click on the other end of the range.
Buildings, bridges, and other structures are not only functional, but need to be beautiful as well-- the forms of the Zakim Bridge echoes not only the Bunker Hill Monument, but the stays of the USS Constitution
---
Lesson 3:

• Design Original arch bridge with a Cost below $260,000 ($230,000 possible)
Deck Elevation= 24 meters

Arch Height = 12 meters

• New Design
• Select
Elevation-24 Meters
Arch Abutments; Height of Arch=12 meters
No Piers
No Anchorages
Templates( templates are suggestions only- try making your own design)
Design by_______________
Review optimizing using load test results:
Force/strength ratios should be between 0.7 and .99- if greater than 1.0, become bright red or blue(failed!)
Note properties of hollow tubes vs bars

Printing the Design:Demo
File- Print the Design; 'Save as' to student file
Color Print of Design:
Do Screen Shot of Drawing Board, showing force/strength ratios- (On Mac: Control + Option+3)
Print Screen Shot on HP 145
Extra time- work on own design
---
Lesson 4:
Optimize Cable-Stayed or Suspension Bridge from sample design - Less than $220,000- force/strength ratios should all be 0.7- 0.9.
Note properties of hollow tubes vs bars
Note how components interact
National Geographic Video: Superbridge
Do Screen Shot of Drawing Board, showing force/strength ratios- (On Mac: Control + Option+3)
Print Screen Shot on HP 145 printer

Extra Credit: Design "Folly" bridge- Must be functional as well as artistically interesting